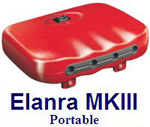 Compact and fully portable for use in the car, airplane, or hospital
S$980.00
Description:
The Elanra MKIII Portable Ioniser is a fully programmable, multi-use portable unit, which enables motorists to enjoy the benefits of a refreshing, negatively-charged atmosphere in their vehicle, while helping to safeguard the driver, passengers and other road users. It is fully programmable with 32 individual user friendly settings.
During travel, the Elanra Portable is powered by the vehicles battery and sits on a specially-designed stand which is fixed to the dashboard or rear shelf. Easily removed from this stand, the Portable will also run on its own internal 9V battery where power is not available. In addition, it can be plugged into any electrical outlet in the world with its specially designed "switch-mode" power supply. This enables you to use this very versatile product whilst driving, flying in an aeroplane, or travelling by bus or train.
Dimensions:
168mm Width x 37mm Height x 120mm Depth

Fully Guarantee
The distributor guarantees to re-purchase your Elanra MKII at any time within twelve months, with a grace period of one month, at half the original purchase price. The terms & conditions are:
• It is returned by the original purchaser.
• The Elanra is in working condition.