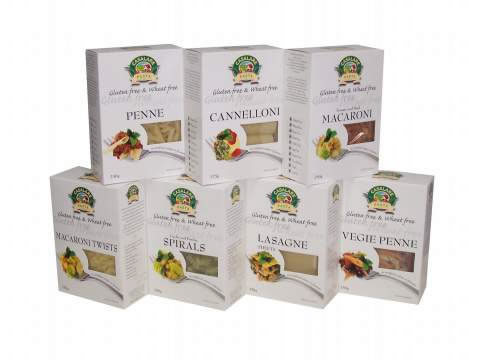 We are thrilled to announce that once again Casalare has received judges' recognition for our entries in the Sydney Royal FINE FOOD show Pasta Competition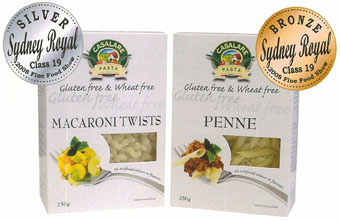 250g Macaroni Twists - 2008 Silver Award Winner!!

250g Penne - 2008 Bronze Award Winner!
(Exhibits were judged on Colour, Taste, Texture, Translucency, Surface Properties, Cracking and Impurities)
Other products in the premium boxed range:
125g Cannelloni

250g Tomato & Basil Macaroni

250g Garlic & Parsley Spirals

250g Lasagne Sheets


250g Vegie Penne
Product features:gluten_free_wheat_free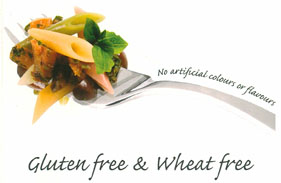 Gluten Free
Dairy Free
Wheat Free
Yeast Free
GMO Free
Egg Free
Peanut Free
Tree Nut Free
Low Fat

Vegan



---
Our Grains
Where are the grains grown?
Grains are sourced from Australian producers where possible. Due to the high protein content required for pasta manufacturing, grains are normally grown in Northern NSW or Qld. Suppliers undergo a thorough process to determine that their methods and systems are quality backed and meet criteria before becoming an Approved Supplier.
Australian grains utilised in our processes include organic spelt, organic durum wheat semolina, organic whole-wheat, organic brown rice, white rice, maize. We are constantly on the search for new grains suitable for pasta production. Contact us if you believe you are able to assist.

Organic
Casalare certified organic product is accredited with Australian Certified Organic (308P). The annual audits held authenticate our processes and ensures product legitimacy. All certified organic products are manufactured from raw ingredients grown without the use of synthetic pesticides or herbicides using nature as a 'model'. By purchasing organic foods you will help to protect future generations. Water quality will be maintained and soil erosion prevented. You will also be helping Australian farmers and manufacturers support a true economy. Best of all - you will enjoy food with more flavour!
Gluten-Free
Coeliac disease is a permanent intolerance to dietary gluten. It may affect people of all ages. The diagnosis is found by a specific panel of blood screening tests followed by a bowel biopsy. It is treated by a strict gluten-free diet for life. Symptoms may include: unexplained anaemia, early onset osteoporosis, constipation, bloating, fatigue, vitamin deficiency, skin rashes, bone and joint pain, tiredness, diarrhoea, abdominal pain, flatulence, lethargy, mouth ulcers, retarded growth in children, mood changes.