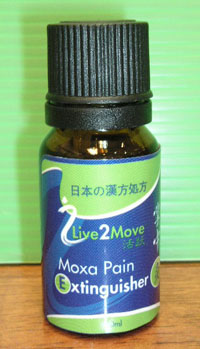 10ml S$35.00

Moxa Pain Extinguisher is a product of Kamp medicine, the Japanese study and adaptation of the classical literature of Chinese medicine.
Kampo is integrated into the national health care system, the formula of Live2Move Moxa Pain Extinguisher are therefore prepared under strict manufacturing conditions that rival pharmaceutical companies.

Live2Move Moxa Pain Extinguisher treats pain in 30 seconds by activating the essence of the oil using the heat of our palm, and pressing against the palm at acupuncture points or certain locations of the human body. When the affected site receives a better supply of oxygen and nutrients, the pain and numbness will disappear; inflammation and waste materials from old injuries can also be removed. It works like a pain relief miracle, and most people who experienced treatment with Live2Move Moxa Pain Extinguisher feel invigorated.

How It Works

Live2Move Moxa Pain Extinguisher adopts nanotechnology to allow the essence of the ingredients to penetrate into the skin. Not only does it work phenomenally to ease pain and aches, the effect is immediate and extremely safe, reducing the need to sue countless of other medication that are not only ineffective, and may bring about side effects as well. It works like a 30 seconds do-it-yourself acupuncture session, just without the pain of needles!
Benefits of Live2Move Moxa Pain Extinguisher
Relieves fatigue

Fights muscular weakness

Improves blood circulation
Good for muscular tension and stiffness

Eases rheumatism, neuralgias and muscular pain and stimulates gastric functions

Good for treating menstrual disorders

Key Ingredients:
Caulis Impatientis – promotes blood circulation and helps to reduce pain

Rhizoma Ligustici Chuanxiong – promotes the flow of qi and eliminating wind to relieve pain

Stigma Croci – removes heat from blood and to calm the nerves.

Mentha Spicata – reduces pain

Rhizoma Zingiberis – alleviate osteoarthritic and other pain

Angelicae sinensis – to activate blood circulation and relieve pain
Application & Caution:
For external application only. Keep it away from eye, mouth and open wounds. People with sensitive skin use with caution.

Not suitable for pregnant women and kids below 5 years old.

Drop 1 ~ 2 drops of Moxa Pain Extinguisher on one palm, and immediately place the palm onto the sore or tender spot of the body and hold for several seconds.

Once the sensation of extreme heat developed in the area, you should lift the palm away, and tap the spot lightly several times to improve the circulation.

Tightly cap the bottle and store it away from sunlight and heat source.