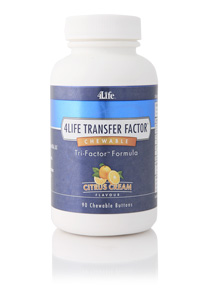 4Life Transfer Factor Chewable Tri-Factor
(90 tablets)
for more information on Transfer Factor, click here...
On the go? Just pick up a couple of 4Life Transfer Factor Chewable Tri-Factor Formula tablets and you're on your way! 4Life Transfer Factor Chewable comes in a great-tasting citrus-cream flavored chewable tablet and lets you enjoy the same benefits as 4Life Transfer Factor Tri-Factor Formula.
Primary Benefit
Promotes general wellness by supporting your body's needs
What makes this product unique?
Transfer factors are tiny messenger molecules that transfer natural response information from one entity to another.
Complementary Product
4Life Transfer Factor Tri-Factor Formula