This processor can crush the cereal to release the nutrients within the cellular walls in seconds and turn grains (with hot water) into steaming porridge or rice milk within 4 minutes! No Cooking Is Required! Ideal for baby meal, elders and those require to ingest nutrient- & fibre-rich food in liquid form for easy assimilation!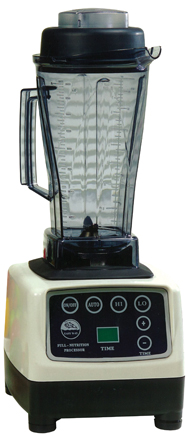 S$1,250.00 per unit with accessories
New stock just came in...

Have question? Talk to us or call 62922991, 83338375

Product Specification:
Brand Name: Easy Way
Horse Power: 3.5 Peak with 38,000 rpm: highest in its class

The motor unit is made in Germany with 10-year warranty!
All other parts come with 1 year warranty for normal use
One-touch monitor

LED display

Microcomputer Auto Control

Multi-purpose: fresh juice, soybean milk, grain powder, dressings, smoothies

Break Plant & Grain Cell Wall Instantaneously: make perfect, nutritionally-rich beverages and retain wholesome cellulose

NSF/ANSI Standard 51 Food Equipment Material
Available in 220V or 110V. Please specify when order
Applications:
This processor can make the following wholesome food within minutes!
| High fiber vegetable & fruit juice | Nutritious green juice |
| --- | --- |
| Soy milk | Nut paste (peanut, almond etc) |
| Home made wholesome sauce | Fruit Smoothies |
Product Features:
Microcomputer control timer to automatically stop the processor precisely every time.

Touch panel with LED display: advanced technology, easy control and user friendly.

Commercial-grade container: 2,000cc capacity, food-grade plastic material approved by NSF/FDA.

Container and stirrer are made of food-grade materials that can withstand frost, heat and break resistance.

Commercial-Grade High Performance Motor with Overheating Thermal Protection: 3.5 horse power with 38,000 rpm maximum. Professional ventilation and airflow design for heavy uses.

Long-Life Stainless steel base, Germany-made bearing and tungsten blades.

GS, CE, UL and BSMI approved.

Preserve The Wholesome Nutrients: the fruit pulp and peel are perfectly crushed instantly, thus retaining the full nutrients and made the fiber more palatable and easily ingestible.

All-In-One Appliance: easy to use and suitable for many applications.

It is ideal for making wholesome fruit and vegetable juices, hot soybean and rice milk, delicious icy smoothies, rich hot soups, herbal soups. It can be used as a fine miller for dried cereals, nuts, and coffee beans.