Not Available - Agency Changed!
Excalibur Food Dehydrator - 9 Tray & 5 Tray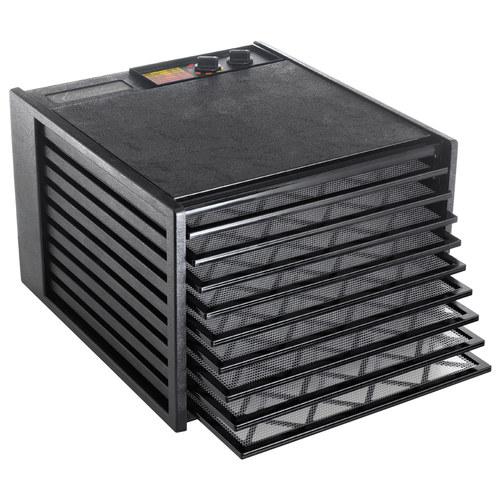 9-Tray dehydrator (also available in smaller 5-tray version), 15 square feet of drying space
Built in on/off switch and adjustable thermostat with 26 hour timer
Includes and flexible polyscreen tray inserts to prevent foods from sticking
Great for large families, craftspeople, and sportsmen.
Built in on/off switch
Convenient 26 hour timer, lets you sleep of leave home in peace
Great for large familes and gardens
Includes adjustable thermostat
Excalibur 3926TB 9-Tray Dehydrator
The 3926TB by Excalibur comes with 9 trays, a total of 15 square feet of drying space, 26 hour timer and an adjustable thermostat temperature control that ranges from 95°F to 155°F making it safe to dehydrate meat for jerky. The fan, heating element and thermostat are in the back of the unit, so cool air is drawn in, heated and then distributed evenly over each tray. This patented Parallex Horizontal Airflow is exclusive to Excalibur and helps the food to dehydrate faster, retain more nutrients and look and taste better, without tray rotation. Made in Sacramento, California.
Key Features
9 trays, 15 square feet of drying space.
26-hour Timer.
Adjustable Thermostat 95°F to 155°F. Safe to dry meat for jerky.
No food or tray rotation needed during dehydration.
Remove trays as needed to increase the height needed to dehydrate bulky items or raise dough.
7-inch fan, 440 watts. Unit Dimensions: 12-1/2 H x 17 W x 19 D (inches)
Made in the USA.
Mesh screens are BPA free.
220v/240 volt, 50 Hz International Model with Plug Choice to best suit your Country. CE Safety Certified and RoHS Compliant.
For 110 volt, please click here...Excalibur 3926TB Food Dehydrator, Black...
Safe and Easy to Use
26-hour Timer.

Adjustable Thermostat: 95°F to 155°F.

Safe to dry meat for jerky.
Parallex Horizontal Airflow
Excalibur's patented Parallex Horizontal Airflow provides fast, even dehydrating. The fan, heating element, and thermostat are in the back. Cool air is drawn in, heated, and distributed evenly over the trays.
Hyperwave Fluctuation Technology
With the Excalibur Hyperwave Fluctuation technology keeps the food temperature low enough to keep the enzymes active, but the air temperature gets high enough to dry food, overcoming yeast, mold, and spoilage. Ordinary dehydrators produce constant, unchanging heat causing "case hardening." Basically a dry surface with moisture trapped inside – the perfect environment for yeast, mold and bacteria growth.
Versatile and Healthy

Dehydrate Fruits and Vegetables or Meat and Fish for Jerky. Re-crisp breads, crackers, etc. Make soup mixes and reconstitute later.

Make healthy, preservative-free, fruit roll-ups...and other snacks that kids of all ages will enjoy

Make all-natural, healthy pet treats.
Dry fresh flowers for potpourri. Use for arts & crafts such as cake decorations, dough art, drying photographs.
---
To order or to ask a question:

Nutrimax Wellness Store, Singapore
390 Victoria St #02-30 Golden Landmark (Opp. Raffles Hospital) Singapore 188061 Tel: 6292 2991, 83338375 (Mobile)