The item has been discontinued. Please look at alternative here...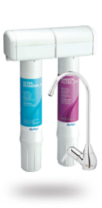 Utilising Hyflux proprietary ultrafiltration (UF) membrane technology that's used in industrial and commercial scale water treatment, Hyflux Ultra Filter HF1P, offers you a miniature water treatment plant in your home or office.

No counter-top space is required. Installed systems can be hidden under the counter, keeping your kitchen and pantry neat and tidy. Filter replacement is easy and simple with its innovative AutoShut feature, where filter replacement can be done without shutting off the water mains.

Benefits:
Ecological and Economical – No water wastage
Hassle-free and simple filter replacement with AutoShut
Reduces 99.9999% bacteria, thanks to Hyflux proprietary ultrafiltration (UF) membrane technology. Viruses are also reduced.
Retains beneficial minerals in water
Easy installation – No storage, power source and drain line required
Utilises ultrafiltration (UF) membrane – filters impurities as small as 0.01 micron
Offers tremendous saving and peace-of-mind
Features:
Twist on/off filter replacement – Quick and easy
AutoShut – Water flow stops automatically when filters are removed
Carbon post-filter – Reduces chlorine taste and odour
High flow rate
Product Specifications:
Dimensions (mm) :

241(W) x 89(D) x 400(H)

Filtration Flow Rate :

2.3 L/min [Pressure: 4 bar]

Feed Water pressure limits :

20 - 100 psi (1.4 - 6.9 bar)

Feed Water temperature limits :

5 - 38°C

Feed Water pH limits :

4 - 11

Filtration Lifespan* :

UF Membrane - 3000 Litres
Carbon Filter - 3000 Litres

Tested in accordance to:

APHA 9222D and APHA9222G using E.Coli Bacteria

US ANSI/NSF Standard 42 for Reduction of Chlorine, Taste and Odour (For Carbon Filter)
*May vary depending on local water quality and water flow rate.