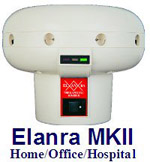 Incorporates up to 144 configurations to support specific health condiitons
S$1192.00

Description:
The Elanra MKII Medical Ioniser was especially designed for you in mind, incorporating 144 programmable configurations to suit your individual needs. The MKII is the most technically advanced ioniser in the world. The MKII utilises the world's finest components, and even the case is made from special imported fibres that do NOT outgas or produce toxins, which is especially important for those who suffer from chemical sensitivity or are highly allergic.

The Elanra MKII Medical Ioniser has won a silver medal in the inventors' conference in Switzerland.
Dimensions:
135mm Width x 108mm Height x 73mm Base Width
Fully Guarantee
The distributor guarantees to re-purchase your Elanra MKII at any time within twelve months, with a grace period of one month, at half the original purchase price. Provided that:
• It is returned by the original purchaser.
• The Elanra is in working condition.