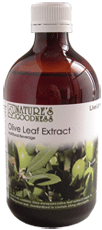 S$42.00

Very High in Antioxidants. No added sugar. Cold Pressed.
500mL = 2 x 25mL per Day - 10 Day Supply.
What is Olive Leaf Juice?
The leaf of the olive (olea europaea) tree is a rich source of antioxidants and phytonutrients.
Olive leaf is particularly rich in oleuropein, and antioxidants.
Why is Olive Leaf good for you?
Olive Leaf is a potent source of antioxidants - substances which protect the body from the harmful effects of free radicals and oxidative damage. They are reported to reduce the effects of ageing and promote health.
Is your Olive Leaf Juice made of cold alcoholic extraction or Hot glycerin extraction?
Research shows higher bioactivity and higher oleuropein contents in a product when cold extracted, than in hot glycerin extraction!
Extraction of Olive Leaves using hot glycerin extraction method is less efficient than cold alcoholic extraction. It is also damaging to the end product.
Why is hot extraction a detrimental process for Olive Leaf Juice?
The main active ingredients of Olive Leaf Extract, oleuropein and elenoic acid, responsible for its broad spectrum properties, are very heat-sensitive molecules. When heated, these molecules decompose, loosing their properties. Test results show that significantly more oleuropein is found in cold alcoholic extraction than in hot glycerin extraction.