Emu Oil Injury Relief Liniment
About Riverland Emu Oil Products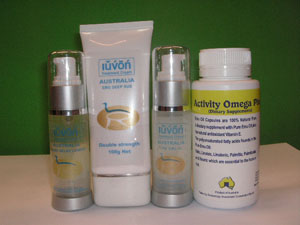 Emu oil is an oil made from the fat of the emu, a bird native to Australia.
It has been used for thousands of years by the Australian aborigines for the treatment of burns, wounds, bruises, and as a pain reliever for bone, muscle, and joint disorders.
Emu oil is approximately 70% unsaturated fatty acids. Of which, oleic acid, a mono-unsaturated omega-9 fatty acid accounts for a large percentage.

Typical Omega Fatty Acid Analysis per our double strength 750mg Capsule:
Omega 3 (Linolenic acid) 0.6%

Omega 6 (Linoleic acid) 7.7%

Omega 9 (Oleic acid) 51.7%



Some uses:
• Moisturizer
• Helps diabetic patients heal faster from inflicted wounds
• Aiding healing skin from eczema, psoriasis and dermatitis, rashes and bed sores
• Promoting healthy gum tissue
• Alleviates sun burn pain
• Help prevent cold sores and canker sores
• Ease headache and menstrual pain
• Conditions hair and promotes growth
• Sexual lubricant
• Eases teething pain
• Helps get rid of ring worm on pets
• Alleviates hot spots on animals
• Alleviates sting and itch from insect bites
• Reduces fine lines and stretch marks
• Eases sore, tired feet
• Reduces hemorrhoids
• Promotes healthy nails and cuticles
• Loosens muscles prior to work-out
• Helps people with Crohn's disease
• Helps clear up diaper rash
• Moisturizes dry noses and paws on pets
For more information on Emu Oil, you might want to check it out at wikipedia http://en.wikipedia.org/wiki/Emu_oil
Local Delivery Service Available!
For orders above SG$180, delivery will be free of charge.


Overseas order will be sent via post or courier service, please ask for quote.