Vitamin K Functions
Primary function is to regulate normal blood clotting. Vitamin K2 promotes mineralization of bone, while inhibiting mineralization (calcification) of vessels.
Osteoporosis and Coronary Heart Disease are strongly associated with lower levels of K2 (menaquinone).
Causes of Vitamin K deficiency:
Liver damage or disease (e.g. alcoholics), fibrosis, cirrhosis
Gastrointestinal problems (decrease the absorption): Inflammatory bowel diseases, abdominal surgeries, obstructions in the bile duct, cystic fibrosis, sprue, Crohn's disease, colitis
Medications (reduce the absorption): antibiotics.
Stringent diets, taking anticoagulants.
Vitamin K: K1 & K2
1. Phylloquinone (K1)
There are two types of K1:

From:

Leafy green vegetables such as
spinach , cabbage, cauliflower,
broccoli & brussels sprouts
Some fruits such as avocado,
kiwifruit and grapes
2. Menaquinone (K2)
Menaquinone-4 MK4: synthesized by animal tissues. Found in meat, eggs, dairy
Menaquinone-7 MK7: synthesized by bacteria during fermentation. Found in Natto
Bioavailability K2 is superior to K1

Natural vitamin K2 as menaquinone-7 (MK-7) is the most bioavailable, longest lasting and most bioactive form of Vitamin K2.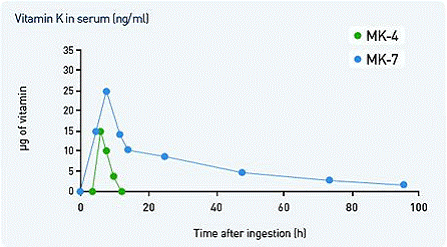 MK-4 has to be applied in very high pharmacological doses (milligrams) to demonstrate benefits for bone and heart health. In case of MK-7, doses in micrograms – 1000 x less – are sufficient for significant bioactive effect.
Ask a question:

Nutrimax Wellness Store, Singapore
390 Victoria St #02-30 Golden Landmark (Opp. Raffles Hospital) Singapore 188061 Tel: 6292 2991, 83338375 (Mobile)