Himalaya AyurSlim Capsules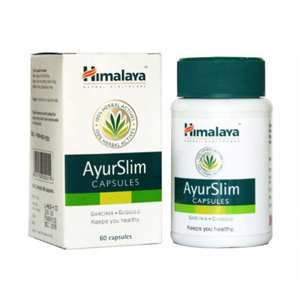 AyurSlim is an effective herbal blend designed for the management of obesity. It is a safe, potent yet gentle formulation that is critical to a successful weight loss strategy.

Ayurslim was studied in obese patients. At the end of the study, Ayurslim was associated with a significant reduction of body weight. The weight loss was directly proportional to the initial weight with an appreciable change in BMI, skin fold thickness and serum lipid parameters.
Without adverse side effects, this all-natural product:
Arrests the production of fats by inhibiting the enzyme ATP citrate lyase
Limits the synthesis of fatty acids in the muscles
Reduces excess cholesterol and triglyceride levels
Abolishes sugar cravings
Detoxifies the body of harmful substances stored in fat tissues
Decreases skin fold thickness and corrects lipid profile
Effectively reduces body weight
Indications: Obesity, Excess Body Weight

Active ingredients: Garcinia cambogia, commiphora wightii, gymnema sylvestre, terminalia chebula

Dosage: 2 capsule twice daily, after meals, for a minimum period of 3 to 6 months

Packaging Size: 60 capsules per bottle
About Himalaya Herbals
Himalaya Herbals is a range of 100% natural and safe products with rare herbs collected from the foothills of the Himalayas. Each product combines the best of Ayurveda with years of dedicated research. Batch to batch performance and complete purity and safety are assured through the application of advanced pharmaceutical technology at every stage of manufacture.
---
To order or to ask a question:

Nutrimax Wellness Store, Singapore
390 Victoria St #02-30 Golden Landmark (Opp. Raffles Hospital) Singapore 188061 Tel: 6292 2991, 83338375 (Mobile)