Himalaya Punarnava for Urinary Tract Infection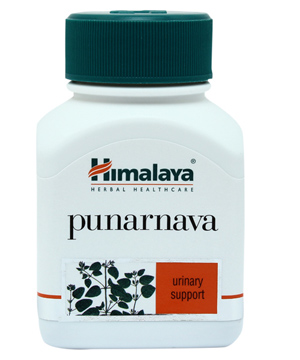 Urinary tract infection:
Punarnava works as a diuretic. The diuretic action of the herb is attributed to the presence of the xanthone beta-ecdysone. In addition, Punarnava also has antimicrobial, anti-inflammatory and antispasmodic properties, which are beneficial in treating urinary tract disorders such as chronic and recurrent urinary tract infections (UTIs), including UTIs in pregnancy.
Nephrotic syndrome:
The herb has been reported to increase serum protein levels and reduce urinary protein excretion in clinical trials in patients suffering with nephrotic syndrome. The activity is attributed to the presence of rotenoids in various parts of the plant. Punarnava also reduces edema associated with kidney dysfunction.
Other:
The flavonoid arbinofuranoside, present in the herb, was found to lower serum uric acid, which is helpful in treating urogenital disorders.
Active Ingredients:  Each capsule contains 250mg extract of Punarnava
Indications:
Urinary tract infections
Edema (swelling)
Dosage: One capsule, twice a day or as directed by your physician
Packing Size: 60 capsules/bottle
About Himalaya Herbals
Himalaya Herbals is a range of 100% natural and safe products with rare herbs collected from the foothills of the Himalayas. Each product combines the best of Ayurveda with years of dedicated research. Batch to batch performance and complete purity and safety are assured through the application of advanced pharmaceutical technology at every stage of manufacture.
---
To order or to ask a question:

Nutrimax Wellness Store, Singapore
390 Victoria St #02-30 Golden Landmark (Opp. Raffles Hospital) Singapore 188061 Tel: 6292 2991, 83338375 (Mobile)