Himalaya Liv. 52 Syrup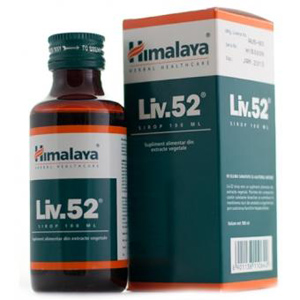 Himalaya Liv-52 a unique ayurvedic supplement, is the world's most recognized liver formula. Liv.52 is a recognized and registered herbal product in over 45 countries and prescribed by number of physicians around the world. Since the introduction of Liv.52 in 1955, along with the clinical case studies proves Liv.52 is one of the most studied and tested and Best Selling Liver supplement around the world.

Liv52 A Blend of proven herbs with antioxidant properties ensures optimum liver function through the protection of the hepatic parenchyma. Liv-52 neutralizes all kind of toxins and poisons from food, water, air and medications, the detoxification process cleans and protect the liver.

Liv-52 is safe and effective in protecting the liver. It has proved to be useful to the liver in serious liver diseases including,
Hepatitis,
alcohol liver disease,
pre-cirrhotic and early cirrhosis conditions,
elevated liver enzymes,
fatty liver conditions,
protein energy malnutrition, and
radiation or chemotherapy induced liver damage.
Approximately 3 billion tablets sold in more than 76 Countries every year. More than 250 clinical studies states that Liv.52 is popular and effective among
Anabolic Steroid users,
heavy alcohol drinkers, (Alcohol users in particular will find Liv-52 helpful in maintaining a healthier liver.)
individuals taking prescriptive medication. (Liv.52 helps those in medication to protect against damaging hepatoxic side effects.)
people undergoing liver rehabilitation and
health conscious individuals.
How It Works:
Liv.52 has cholesterol-regulating action.
It restores or improves the functional efficiency of the liver by protecting the hepatic parenchyma and promoting hepato cellular regeneration.
Liv-52 regulates levels of liver enzymes and optimizes liver function by rapid elimination of acetaldehyde, the toxic intermediate metabolite of alcohol metabolism, and ensures protection from alcohol-induced hepatic damage.
Liv-52 neutralizes all kind of toxins and poisons from food, water, air and medications, the detoxification process cleans and protect the liver.
The antiperoxidative activity of Liv.52 prevents the loss of functional integrity of the cell membrane, maintains cytochrome P-450, hastens the recovery period and ensures early restoration of hepatic functions in infective hepatitis.
Liv.52 diminishes the lipotropic activity in chronic alcoholism, and prevents fatty infiltration of the liver. In pre-cirrhotic conditions,
Liv.52 arrests the progress of the disease and prevents further liver damage.
As a daily health supplement, Liv.52 improves appetite, the digestion and assimilation processes, and promotes weight gain. Liv 52 is best for a regular health conscious individual for liver support.
Liv 52 is very popular among anabolic steroid users. Liv 52 is better than milk thistle. Liv 52 is used for Liver protection liver, detoxification, cirrhosis, hepatitis, liver cleansing and liver rejuvenation.
Active Ingredients:
Himsra (Capparis spinosa)
Arjuna (Terminalia arjuna)
Kasani
Common chicory (Cichorium intybus)
Kakamachi
Kasamarda
Negro Coffee
Mandur bhasma
Biranjasipha(Achillea millefolium)
Achillea
Jhavuka Jhavuka
Tamarix.
Dosage:
Children: 1 teaspoonfuls two or three times daily
Adults:    2 teaspoonfuls 2 to 3 time daily
Packing size: 100ml
About Himalaya Herbals
Himalaya Herbals is a range of 100% natural and safe products with rare herbs collected from the foothills of the Himalayas. Each product combines the best of Ayurveda with years of dedicated research. Batch to batch performance and complete purity and safety are assured through the application of advanced pharmaceutical technology at every stage of manufacture.
---
To order or to ask a question:

Nutrimax Wellness Store, Singapore
390 Victoria St #02-30 Golden Landmark (Opp. Raffles Hospital) Singapore 188061 Tel: 6292 2991, 83338375 (Mobile)