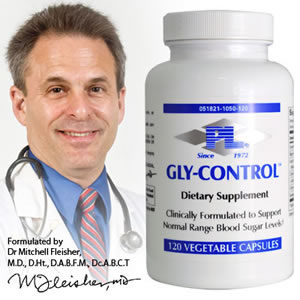 Note: This product is no more available. Will offer similar product shortly.
Gly-Control is clinically formulated for the maintenance of healthy blood sugar levels, protection against and improvement of insulin resistance (pre-diabetes) and its long term complications.
In addition, Gly-Control helps to regulate blood lipid levels (cholesterol and triglycerides), promote weight loss and control obesity via increased lipolysis (breakdown) of triglycerides and increased lipid oxidative catabolism and mitochondrial activity (burning of fat for energy).
It also helps inhibit the formation of toxic, advanced glycation end products (AGEs = spontaneous combinations of excess glucose with proteins and lipids) by normalizing blood glucose levels.
Suggested Use: As a dietary supplement, 2 capsules twice daily or more as directed by your healthcare practitioner.
Serving Size 2 veg capsules
Servings per container 60

Product Cautions: The standardized extracts of Gymnema sylvestre, Momordica charantia and Galega officinalis, Cinnulin PF®, L-Glutamine, Chromium and Vanadium in Gly-Control are considered safe when used as directed in the above recommended dosage ranges. Careful monitoring is required in patients with diabetes mellitus, hypoglycemia, liver and kidney diseases.
Not recommended for use during pregnancy or nursing.
Professional guidance by your nutritionally-trained physician is recommended.

Amount per serving:
Gymnema Extract (Gymnema sylvestre) (leaf): 375 mg
Bitter Melon Extract (Momordica charantia) (fruit): 300 mg
Goat's Rue Powder (Galega officinalis) (aerial parts): 300 mg
Cinnulin PF®, Cinnamon Extract (bark): 112 mg
L-Glutamine: 112 mg
Chromium (from chromium picolinate): 50 mcg
Vanadium (from Bis-Glycinato Oxo Vanadium): 50 mcg
Other ingredients: Plant cellulose, vegetable stearate
Manufactured in the U.S.A.
This product has been produced in a facility that is NSF GMP Registered
Keep in a cool, dry place, tightly capped.