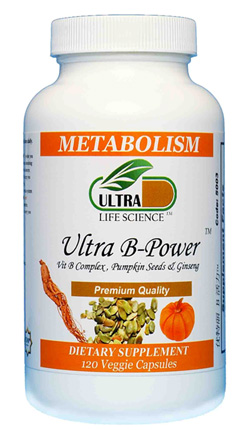 Ultra B-Power™
(120) Veggie Capsules
Feeling tired, run-down and stressed out? Vitamin B-complex supplement is what you need. It is the best supplement for reducing stress, fatigue and improving alertness.
Ultra B-Power™ consists of all the essential B vitamins such as Pantothenic Acid, Thiamine, Riboflavin, Biotin, Folate, Niacin and Vitamin B12 which are derived from natural sources. It provides 8 essential B vitamins which helps to enhance vitality, metabolism and provide beneficial health effects to the nervous system. Top-grade Korean Panax ginseng and pumpkin seed powder have also been added for greater beneficial health effects.
Key Benefits:
♦ Contains all the 8 essential B vitamins which
may help to enhance metabolism rate.
♦ A natural energy booster which may help to
release energy from macronutrients.
♦ May also help to maintain healthy nerve
functions, improve thinking ability and promote
faster response.
♦ May assist in the formation of red blood cells,
thus helping to prevent anemia.
Recommended For:
♦ People of all ages especially pregnant and
lactating women and vegetarians.
♦ Individuals with poor metabolism or pale
complexion.
♦ Individuals who often feel tired, stressed-out,
consume alcohol or smoke.
♦ People who experience confusion, depression,
poor endurance or lack of energy.
Directions: After Meal
Normal Maintenance:
• Take 1 capsule, twice daily.

Special Maintenance:
• Take 2 capsules, three times daily.

Reduce Fatigue. Provide Energy
B Vitamins' Role in Blood Formation
Vitamin B12, B6 and folic acid are associated with formation of red blood cells. Therefore, deficiency in these vitamins may lead to anemia. In most vegan diets, vegetarians tend to be lacking in vitamin B12, thus causing them to be anemic.
Therefore, it is important for this group of people to supplement their diet with vitamin B in order to maintain optimal health.
Vitamin B6, B12, Folic Acid Helps Fend Off Heart Disease
Research (Tufts study, 1990s) revealed that low blood levels of Vitamin B6, B12 and folic acid are related to high homocysteine levels in the blood.
Research shows that high homocysteine levels have a relationship with myocardial infarctions, strokes, blood clots in the legs, and damage to the arteries.
Vitamin B6, B12 and folic acid are involved in the process of breaking down homocysteine in the body. When one or more of these vitamins are lacking, homocysteine builds up in the blood over time, possibly leading to heart disease.
B Vitamins Enhance Brain Functioning
Vitamin B-complex is important for optimal health of the nervous system. This is because one of the functions of Vitamin B (thiamine and pyridoxine) is to synthesize neurotransmitters in the brain which allows the nerve cells to communicate with each other. Hence, adequate vitamin B complex intake is essential for optimal health of the nervous system as well as promoting optimal brain functioning.
Folic Acid is Beneficial during Pregnancy
Maternal deficiency in folate is linked to birth defects like neural tube defects such as Spina Bifida in newborns. However, this condition can be avoided if sufficient folate is taken before and during pregnancy. Adequate folate intake 1 month before conception and continued throughout the first 3 months of pregnancy may help to reduce the risk of neural tube defects in newborn babies.
Folic acid supplementation may also reduce the risk of other birth defects (e.g. heart defects, defects of the upper lip and mouth, urinary tract defects and limb-reduction defects).
Other Ingredients in Ultra B-Power ™
Pumpkin Seed Powder: It is rich in amino acids (alanine, glycine and glutamic acid) and contains high amounts of zinc and Omega-3 essential fatty acids. They consist of high quantities of protein, iron and phosphorous and are low in carbohydrates.
Pumpkin seed is also beneficial for the prostate gland. It is a good source of zinc and also contains a "male-type" component, both of which help to treat an enlarged prostate. It may also help in reducing the risk of developing prostate cancer.
Korean Panax Ginseng Root: Ginseng, also known as the king of all herbs, has been used widely in traditional Chinese medicine to improve stamina and to combat fatigue and stress. Some of its well-known uses include assisting to optimize bodily functions and supporting the body's efforts to achieve balance. It also helps the body to adapt to stress and boost the body's energy level.
Nutraceutical Formulation
Code: 5003 Ultra B-Power ™

Amount
Per Veg
 Capsule

%
Daily Value

Thiamine
(as Thiamine Hydrochloride)

5mg

333%

Riboflavin

5mg

294%

Niacin (as Niacinamide)

25mg

125%

Vitamin B6
(as Pyridoxine Hydrochloride)

5mg

250%

Folic Acid

400mcg

100%

Vitamin B12
(as Cyanocobalamin)

100mcg

1667%

Biotin (as d-biotin)

800mcg

267%

Pantothenic Acid
(as Calcium Pantothenate)

25mg

250%

Calcium (as Calcium Carbonate)

75mg

8%

Choline (as Choline bitartrate)

10mg

*

Pumpkin Seed Powder

100mg

*

Ginseng Root (Korean Panax)

125mg

*

Inositol

30mg

*
Ask a question:

Nutrimax Wellness Store, Singapore
390 Victoria St #02-30 Golden Landmark (Opp. Raffles Hospital) Singapore 188061 Tel: 6292 2991, 83338375 (Mobile)