Ultra Flexi Arth™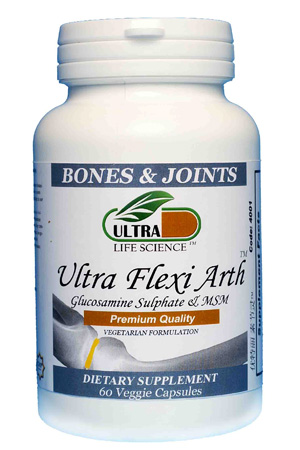 60 Veggie Capsules
Unique Vegetarian Formulation
Freedom From Joint Pain. Strong Bones For Life!
Ultra Flexi Arth™ is a novel formulation that combines botanical ingredients known to assist in relieving stiffness in joints and promoting the body's synthesis of new cartilage and other tissues.
Sprains and strains are types of minor injuries to the soft tissues and connective tissues of the musculoskeletal system. Sprains usually refer to injuries to ligaments, but sometimes to other connective tissues, such as tendons and the surrounding joints. Strains usually refer to injuries to muscles or to the areas where muscles become tendons.
Ultra Flexi Arth™ consists of a unique combination of Glucosamine Sulphate, MSM, Cat's Claw Bark and other vital vitamins. This formulation of key compounds can improve comfort, elasticity and movement in joints, invigorate healing of damaged tissues, and enhance the synthesis of glycoproteins which build up healthy connective tissues and create many important macromolecules.
Key Benefits:
♦ This unique formulation contains all the
ingredients necessary to help with joint and
cartilage growth, to assist with blood
circulation and increase the rate of repair by
amino acids for fast joint recovery.

♦ May aid in slowing down breakdown and
inflammation of synovial fluids that cushion
the joints.

♦ May reduce inflammation to discs, sciatic
nerves and joints.

♦ May help to improve elasticity and flexibility
in vertebral disc.
Recommended For:
♦ Persons in the healing process of healing joint
injuries.

♦ Middle-aged or elderly persons experiencing
rapid loss of bone mass.
♦ Individualswho are involved in rigorous
exercises.
Directions: After Meal
Normal Maintenance:
● Take 1 capsule, twice daily.

Special Maintenance:
● Take 2 capsules, three times daily.
Glucosamine Sulfate: Inhibits Cartilage Breakdown, Promotes Cartilage Repair and Relieves Joint Pain
Studies reported that Glucosamine helps to reduce arthritis symptoms such as articular pain, joint tenderness and swelling. It also stops the deterioration of cartilage and encourages its redevelopment.
Glucosamine can help the body repair eroded and damaged cartilage. It stimulates the production of cartilage, improves joint function and helps to reduce the pain of those suffering from osteoarthritis.
Research indicates that damaged cartilage can be replaced by healthy new cartilage. Therefore, treatment of osteoarthritis and rheumatoid arthritis should focus on both inhibiting cartilage breakdown and promoting cartilage repair.
Glucosamine Sulfate can do both. Glucosamine is a naturally occurring amino sugar that:
• Is necessary for construction of connective
tissues.
• Is both a precursor and stimulant of
proteoglycan synthesis
• Inhibits the degradation of proteoglycans and helps rebuild damaged cartilage.
• Possesses anti-inflammatory properties
• Is highly absorbable sulfate form.

Natural Pain Relief
MSM: A nutritional supplement that supplies biologically active sulfur, in the nutrient form, to the various parts of our body.
It serves as a natural remedy to relieve pain, inflammation and many symptoms of illness without inducing any side effects. MSM offers major benefits for osteoarthritis patients. Studies have indicated that sulfur levels in the arthritic joints are lower than normal. MSM supplies the body with nutrients that helps to maintain the integrity of the cartilage within the joints.
MSM also helps to reduce or eliminate hypersensitivity problems associated with the use of certain medications such as non-steroidal anti-inflammatory drugs used to treat arthritis and related conditions. It has been found to be particularly useful for conditions such as arthritis (rheumatoid and osteoarthritis), back pain, headaches, fibromyalgia, athletic injuries, tendonitis and many more.
Cat's claw: Has anti-inflammatory properties that have proven beneficial in the treatment of arthritis, rheumatism, bursitis and gout. Its beneficial effects may possibly be due in part to its ability to cleanse the digestive tract and assist in toxins removal. Arthritis, joint pain and inflammation among other illnesses have been associated with defects in intestinal permeability.
Curcumin: It has been shown to have a wide range of therapeutic actions. It protects against free radical damage because it is a strong anti-oxidant. A preliminary trial in persons with rheumatoid arthritis found curcumin to be useful in reducing inflammation and symptoms such as pain and stiffness.
Speeds up Wound Healing
Bromelain is most effective for injuries in which there is a congestion of blood or heavy bruising. Because it is a protein digestive agent, it digests trapped blood byproducts. It is more effective for sprains and strains than it is for joint
pain.
Beta-Carotene is a substance from plants that the body converts into Vitamin A. It also acts as an anti-oxidant and an immune system booster.
Regenasure plant
The HACCP/ISO 9002 certified plant will manufacture corn-derived glucosamine, said to be the first American-produced glucosamine on the market.
Glucosamine is used widely to promote joint health, although the supplement is usually derived from shellfish, which can cause an allergic reaction in some people.
Vitamin C is important in helping the body manufacture collagen, which is the main protein substance that holds connective tissues and bones in place. Vitamin C may thus play an important role in wound healing.
Osteoarthritis, the most common form of arthritis affects tens of millions of Americans. This disease affects many different joints in the body, but in particularly the knees, neck, back, hips and fingers. It commonly causes pain, inflammation and decreased range of motion. Osteoarthritis is generally considered to be a relentless and irreversible process of joint destruction. Medical treatment relies upon non-steroidal anti-inflammatory drugs (NSAIDs) such as aspirin, ibuprofen etc. to treat the symptoms. However these does not slow the progression of the disease. In fact, there is evidence that long-term use of NSAIDs can cause further joint damage and accelerate the progression of osteoarthritis by inhibiting synthesis of proteoglycans, a group of proteins that make up the "ground substance" of cartilage and gives the joints their strength and resilence.

Nutraceutical Formulation
Code: 4001 Ultra Flexi Arth™

Serving Size: One (1) Vegetarian Capsule

Each Capsule Contains:

Amount/Serving

Regenasure (Glucosamine Sulfate)

250mg

Cats Claw Bark

200mg

Curcumin

50mg

Bromelain 1200

25mg

MSM (Methyl-Sulfate Methane)

250mg

Vitamin A (as Natural Beta Carotene)

5000IU

Vitamin C (as Ascorbic Acid)

50mg
---
Ask a question:

Nutrimax Wellness Store, Singapore
390 Victoria St #02-30 Golden Landmark (Opp. Raffles Hospital) Singapore 188061 Tel: 6292 2991, 83338375 (Mobile)