BioShield-Radiation R2 (This product is no more available!)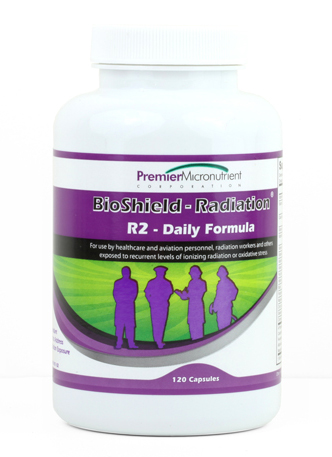 BioShield-Radiation R2 is a micronutrient designed to assist the body in reducing oxidative damage, inflammation, and the body's natural protection against tissue and DNA damage that can occur during radiation exposure.
What to Expect from BioSheild-Radiation R2:
BioShield-Radiation R2 is designed to assist the body in reducing oxidative stress (production of harmful chemicals, free radicals). The most effective way to rid your body of excess free radicals is through the use of antioxidants. BioShield-Radiation R2 is the most cost effective supplement formulation available today and this breakthrough product is now available internationally.
People that could benefit from the use of BioShield-Radiation R2 include:
Healthcare workers exposed to radiation on a regular basis. Those affected may be x-ray technicians, radiologist, emergency room personnel, operating room personnel, ICU personnel and dental technicians etc.
Aviation workers (flight attendants and pilots) and frequent fliers. Radiation exposure at cruising altitude is approximately 64 times greater than at sea level.
Residents living close by and workers at or near nuclear power plants, reactors, storage or waste facilities.
Individuals working or living in high radon environments. Radon is a form of ionizing radiation and a proven carcinogen.
The BioShield-Radiation R2 Initiative:
After the September 11, 2001 terrorist attacks, the U.S. Pentagon began to search for ways to protect its personnel from the adverse effects of radiation they might encounter in combat situations in the Middle East. This search for protection led the Marine Corps Systems Command to Premier Micronutrient Corporation, a Tennessee-based company co-founded by Kedar Presad, Ph.D., the nation's premier radiation biologist. Because of PMC's unique expertise in antioxidant science, they were asked to develop an approach to radiation protection on a biologic basis. PMC then worked for the next two years with Department of Defense ("DOD") laboratories and NASA, leading to the receipt of DOD contracts for Fiscal Year 2005 through the present.
BioShield Radiation R2 is a multiple antioxidant micronutrient to assist the body in addressing the effects associated with high oxidative damage from free radicals and inflammtion. For use by healthcare and aviation personnel, radiation workers and others exposed to recurrent and increased levels of oxidative stress.
Additional Information
| | |
| --- | --- |
| Dosage | Take 2 Capsules Twice daily |
| Benefits | Reduce the effects of acute radiation syndrome when taken orally before exposure to radiation. |
| Size | 120 Capsules, 30-day supply |
| Supply | 1 Month |
| Ages | 18 and older |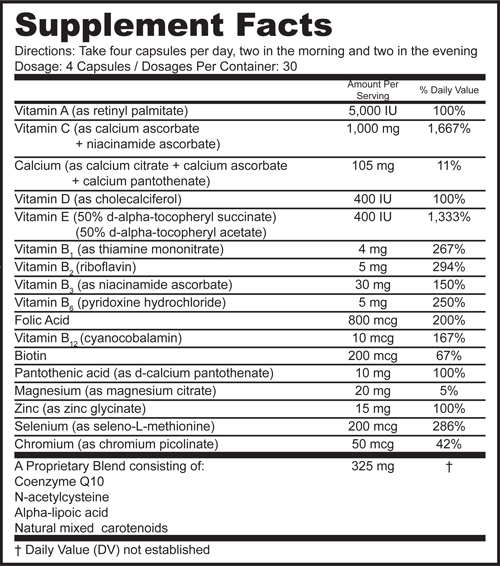 These statements have not been evaluated by the Food and Drug Administration. This product is not intended to diagnose, treat, cure, or prevent any disease.
PMC products are distributed and marketed exclusively by Xsura® Global.
---
Ask a question:

Nutrimax Wellness Store, Singapore
390 Victoria St #02-30 Golden Landmark (Opp. Raffles Hospital) Singapore 188061 Tel: 6292 2991, 83338375 (Mobile)