BioArmor Complete Plus (This product is no more available!)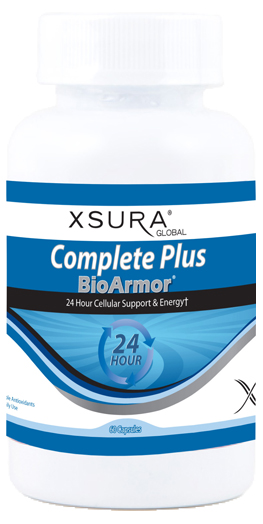 BioArmor Complete Plus is a foundation formula containing only dietary antioxidants. The formula is best for men and women between the ages of 13-35.
What To Expect from BioArmor Complete Plus
Studies have shown that individuals that consume antioxidants on a regular basis, in excess of 3 months, may experience more energy, improved sleep patterns, greater ability for their bodies' to battle colds, and overall improved wellness. It is important to consume BioArmor Complete Plus as directed. Take 1 easy-to-swallow capsule twice daily.
Complete Plus requires simple AM and PM dosing for an optimal antioxidant protection, because taking a supplement once a day may not be sufficient for an optimal health benefit. BioArmor Complete Plus contains age appropriate antioxidants and micronutrients that assist the body in increasing energy levels and enhancing the immune systemthat may give your body a greater ability to battle colds. Iron and copper have been removed to avoid potential harmful interactions with vitamin C and long-term accumulation of these metals.
BioArmor Complete Plus contains no heavy metals (molybdenum, zirconium or vanadium). Long-term consumption of heavy metals can cause brain damage. BioArmor Complete Plus is designed to assist the body in reducing oxidative stress (production of harmful chemicals, free radicals).
| | |
| --- | --- |
| Recommend Ages | 13 – 35 |
| Dosage | 1 capsule twice daily |
| Benefits | Assists the body in boosting its immune system, reducing inflammation and energy production. |
| Size | 60 Capsules, 30-day supply |
These statements have not been evaluated by the Food and Drug Administration. This product is not intended to diagnose, treat, cure, or prevent any disease.
PMC products are distributed and marketed exclusively by Xsura® Global.
---
Ask a question:

Nutrimax Wellness Store, Singapore
390 Victoria St #02-30 Golden Landmark (Opp. Raffles Hospital) Singapore 188061 Tel: 6292 2991, 83338375 (Mobile)